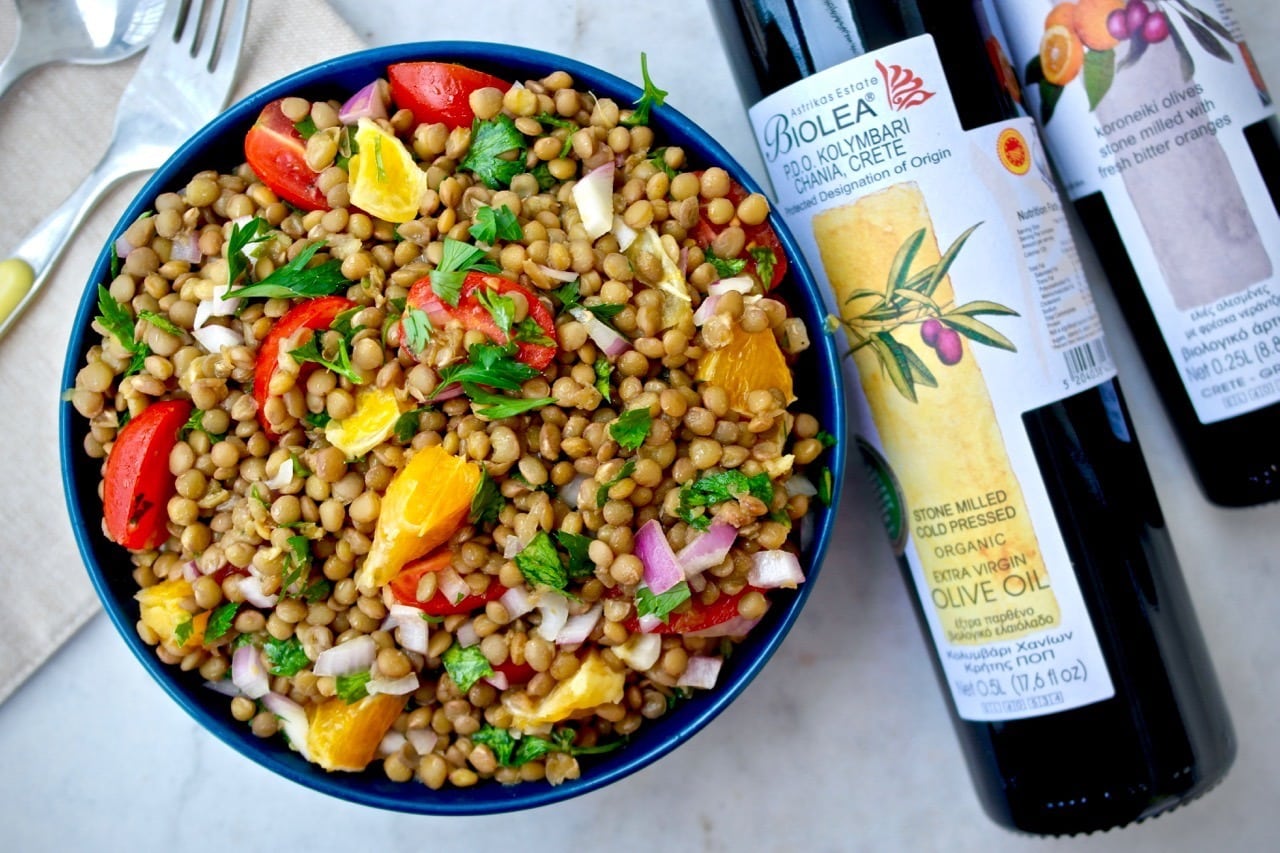 This post was sponsored by Biolea Astrikas Estate. All opinions are my own and I only collaborate with brands that I believe in and are in line with the Mediterranean Diet and my eating philosophy.
If you visit some of the more modern eateries in Greece you will notice that there are plenty of hearty salads on the menu. Perfect for a meal, whether it is for a light lunch or next to the beach or actually for any time of the day. Why eat a club sandwich or burger when you can have a salad with fresh vegetables and fruit that are so abundant in Greece.
One of the salads that I often see in a variety of more "hip" menus are salads made with the humble lentil. While lentils are very common in Greek cuisine, particularly as a stew in the winter, you will not find them in that form generally in a restaurant, but you will find them transformed in a refreshing dish with the addition of fresh ingredients. While it may not be as traditional, the ingredients are very much Greek and Mediterranean.
This salad is inspired by a lentil salad offered in various seaside places in Mykonos and other islands. Recently my friend Monica raved about a lentil salad she had on the island. It sounded delicious and I wanted to have it too (even though I am not on a Greek island). I experimented and this is the result: a vibrant and colorful salad bursting with different flavors. The key here is to use the freshest and best quality ingredients, this is important especially with simple recipes. At home, we generally eat a lot of big hearty salads and one of the ingredients we place a lot of attention to is the dressing, and mainly the olive oil. If the olive oil has an off taste or is old (and rancid) it will ruin your salad no matter how great all the other ingredients are.
The Olive Oil
For this recipe I used Biolea Organic Extra Virgin Olive Oil. Biolea is a small family owned company in Crete that produces what I would call a special olive oil. I had the pleasure of meeting the family a few years back where they had organized an event celebrating Cretan cuisine and what impressed me was the passion they had not only for producing a high quality olive oil, but also producing it in a sustainable manner.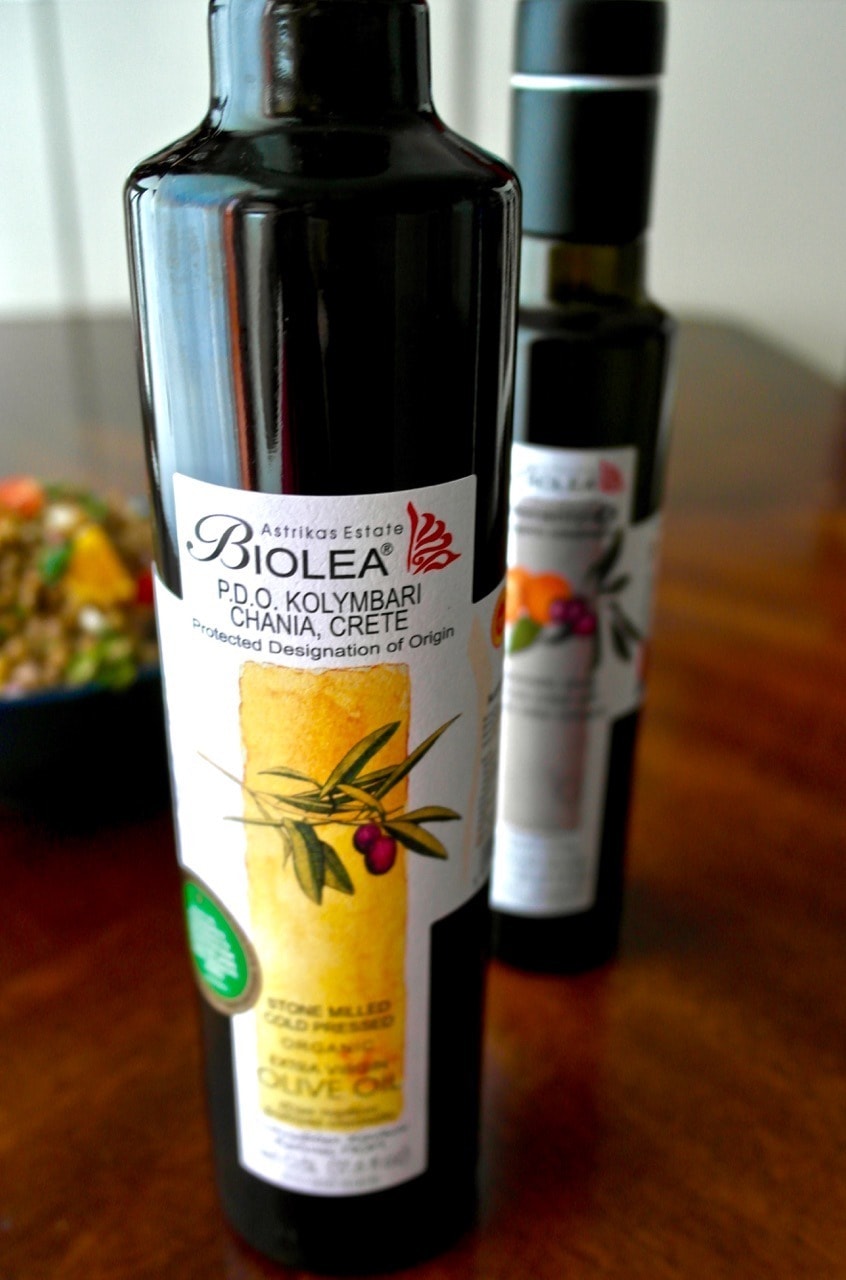 Biolea produces an artisanal organic extra virgin olive oil which is stone milled and cold pressed. This means that it preserves it's nutritional value particularily the polyphenol content. It is a single estate olive oil, produced from the family owned olives and also bottled on their premises. Their production method is also good for the environment. Apart from the fact that they have been organic for over 20 years (no pesticides, herbicides or chemical fertilizers) they also practice arid cultivation which helps conserve Crete's water supply, and have discontinued plowing or using any heavy machinery in the olive groves to help prevent the soil erosion which has been an issue on the island.
George Dimitriadis, his daughter Chloe and the rest of the family offer a wealth of knowledge when it comes to olive oil and Crete. They offer a free guided tour and tasting at the estate where you can find out all you need to know about the production and quality of olive oil. If you are in the Chania area in Crete, you should definitely visit, they offer tours and tastings all year round and the estate is beautiful. You can learn more about the tours by clicking here.
But let's move on to the olive oil. The estate organic extra virgin olive oil has a fresh, grassy, delicate flavor, but you will also get that peppery sensation, a sign of the presence of polyphenols that are responsible for many of olive oil's health benefits. This is a high polyphenol olive oil. The olive oil is bottled in a dark glass bottle protecting it from the light, the label includes all the information you need: harvest date, best before date, the type of olive used (koroneiki), the estate where the olives are located as well as organic certifications. This olive oil is also a PDO product (Protected Designation of Origin).
So now that we've settled the olive oil, you want to get the best tomatoes and oranges you can get your hands on. If oranges are not available you can also use grapefruit or tangerines. For the lentils I use the smallest I can find and cook them so they are slightly soft.
A Nutritional Powerhouse
We had this salad the next day and it was so good! Letting it sit overnight basically marinates it. It was a hot night so this was just right for the occasion and filling. This salad is also very versatile, this is the basic vegan version but you can also add crumbled feta or tuna for additional protein and it is gluten free for those of you who may have an intolerance. Nutritionally this salad is a great source of protein, fiber, antioxidants and slow release carbohydrates keeping your blood sugar stable and keeping you full longer. This salad is good to take with you at work or for picnics and it will last 2-3 days in the refrigerator.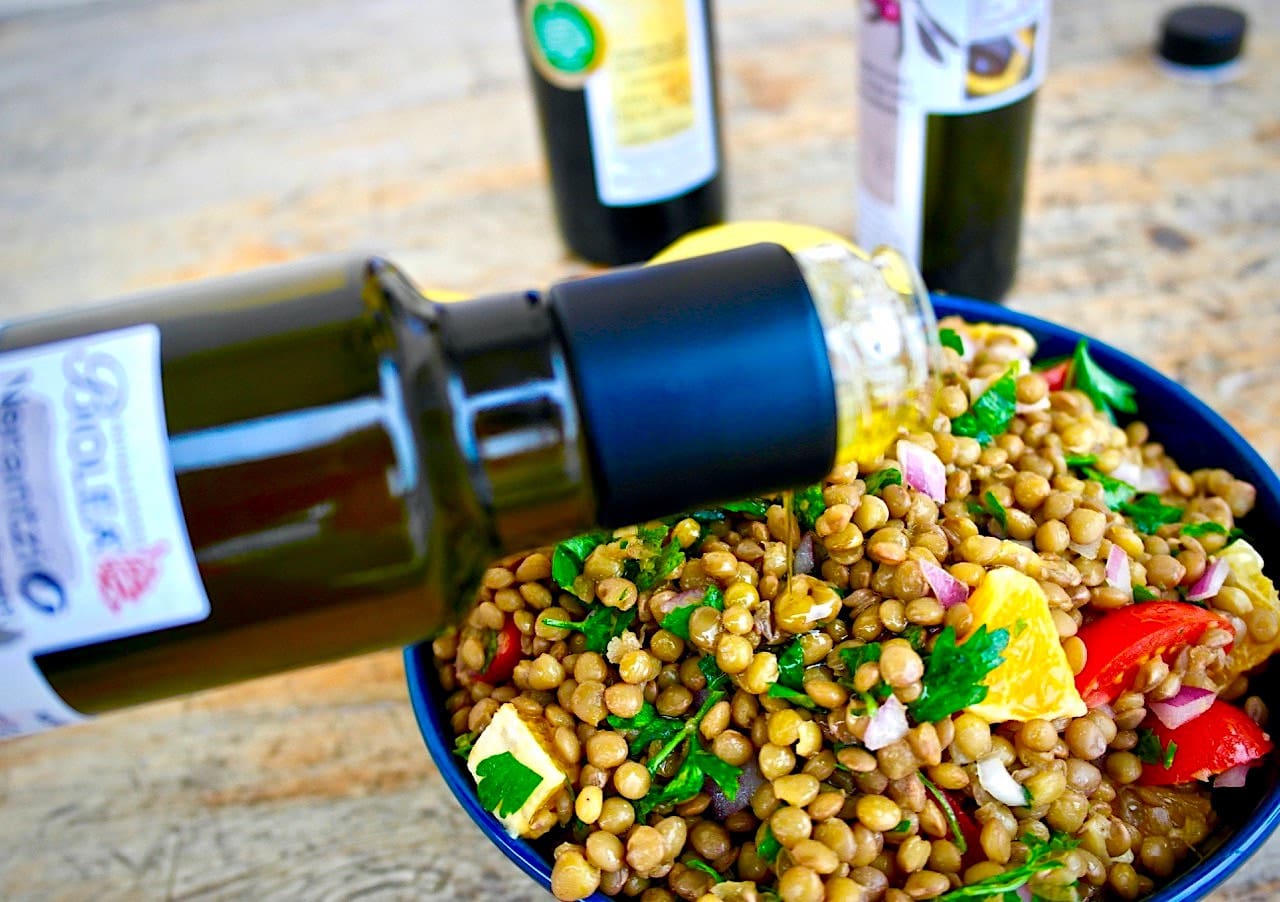 *After I made the salad and had it chilled overnight, I tasted it again and decided to experiment a bit with Biolea's other products. They produce a condiment (Nerantzio) which is basically koroneiki olives cold pressed with whole bitter oranges (nerantzi in Greek) or lemons. The result is an olive oil infused with fresh orange flavor (or lemon flavor) which I thought would be great drizzled over the lentil salad which also had oranges in it. We loved it.
Greek Mediterranean Lentil Salad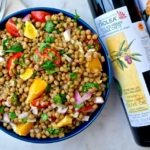 Print Recipe
Pin Recipe
Ingredients
1

cup

dry lentils

1

garlic clove

1

bay leaf

1 ½

cup

of cherry tomatoes

1

orange

or grapefruit cut in chunks

½

diced onion

½

cup

chopped fresh parsley

3

tablespoons

Biolea extra virgin olive oil

plus more for drizzling

1 ½

tablespoons

red wine vinegar

you can also use lemon instead

salt and pepper as needed
Instructions
In a medium pot add the lentils, 2-3 cups water, the garlic clove cut in half and 1 bay leaf. Bring to a boil and than reduce heat and simmer for about 25 minutes until soft (but not mushy). Add water as needed. Drain and remove bay leaf and garlic and rinse with cold water. Set aside.

Cut the cherry tomatoes in half, dice the onion, cut the orange in bite size pieces and chop the parsley. Add all the vegetables, fruit and parsley to the lentils and toss gently.

Make the dressing by mixing the olive oil and vinegar with a dash of salt and pepper.

Add dressing to salad. Mix gently, cover with plastic wrap and let the salad chill (overnight preferably).

When ready to serve drizzle a bit of olive oil and add salt and pepper as needed.
DID YOU MAKE THIS RECIPE?
Leave a comment or share on instagram and mention @greekdiet
* Biolea Organic Extra Virgin Olive Oil is available in selected locations in the United States, Canada, Japan, Belgium, United Kingdom, Germany, France, Austria, Poland and other locations. Contact Biolea directly for detailed information by clicking here
Save for Later and Pin It!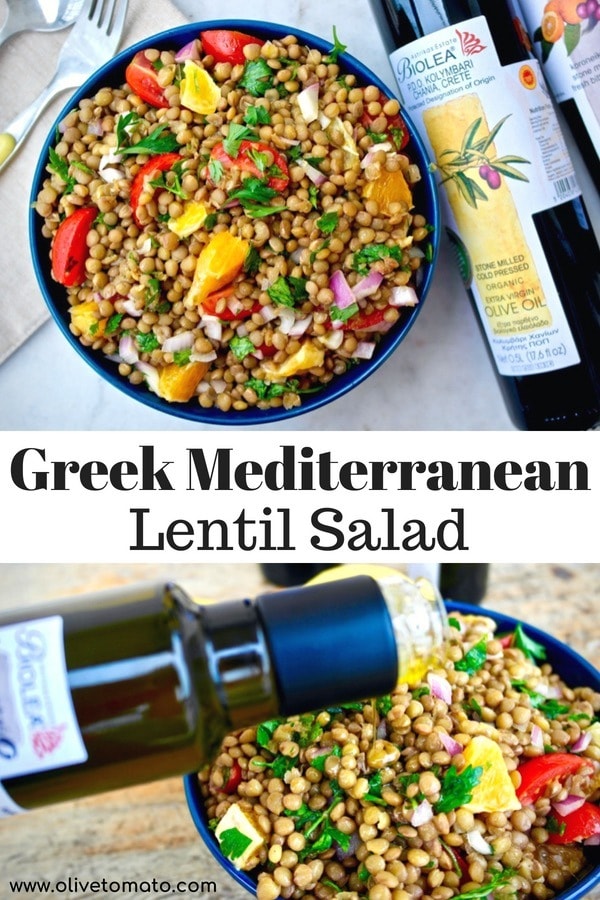 Photos by Elena Paravantes © All Rights Reserved