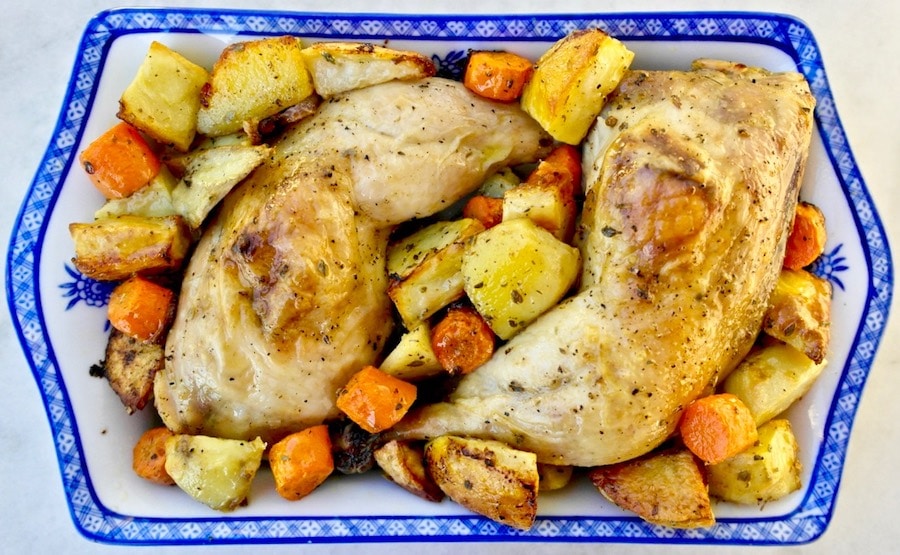 The holidays are over and getting back into our daily routine can be difficult. In Greece the holiday season stretches all the way to the 7th of January. After that, schools start, work starts and everyone is waiting for the next big holiday.
With that in mind, I try to ease into things slowly and that includes avoiding difficult recipes and meals that take too much time to prepare. So one of my favorites for times like these is roasted chicken and potatoes, it's one of those dishes that you can make fairly quickly and can last you for a couple of days.
This meal is a classic dish that was served often when you have company over. You may have seen my mom's classic version of the dish, and if you haven't you can click here for the recipe. This is a slightly different version with similar ingredients but used differently.
The lemon and garlic are tucked under the skin of the chicken providing an intense flavor. There are also carrots and in the past I've made it with sweet potatoes. Onions are also in this recipe, more so to provide flavor rather than to be consumed (although to be honest, I ate them all).
This chicken is delicious and very juicy. And since it is baked at a higher temperature, the potatoes are extra crunchy. In fact they are so good, I've eaten half of them before I've served the chicken.
Serve this with a seasonal salad such as cabbage and carrot or romaine lettuce salad dressed with olive oil and vinegar and you are set.
This dish has all those extras that make the Greek diet so healthy such as oregano, lemon, garlic and olive oil and rich sources of antioxidants.
Greek Style Roasted Lemon and Garlic Chicken with Potatoes and Carrots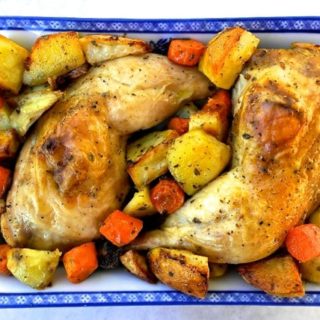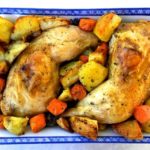 Juicy chicken with crispy vegetables cooked with antioxidant rich olive oil, lemon, garlic and oregano. A perfect meal for anytime.
Print Recipe
Pin Recipe
Ingredients
Instructions
Preheat oven at 425 degrees Fahrenheit (220 degrees Celsius).

Rub salt and pepper into the chicken.

Push under the skin of each piece I piece of lemon and 2 garlic clove halves.

Place chicken on a large pan (large enough to fit potatoes and carrots in one layer).

Cut potato and carrots in smallish pieces 1 ½ -2 inches and put in a bowl along with sliced onion.

Add 4 tablespoon olive oil to the vegetables, pepper, and the oregano and mix well, until all vegetables are coated well.

Spread vegetables around the chicken.

Brush chicken generously with olive oil on both sides, roast skin facing up.

9. Roast for about 45 minutes-1 hour (if you are roasting a whole chicken it will take longer about a ½ hour more).

Check chicken, juices should be clear, although I prefer a meat thermometer, temperature at thickest part should be 165 F (74 C).

If chicken is done, but vegetables are not, remove chicken and cover with aluminum foil, and roast until vegetables are crunchy on the outside and soft on the inside.
DID YOU MAKE THIS RECIPE?
Leave a comment or share on instagram and mention @greekdiet
Photo by Elena Paravantes© All Rights Reserved