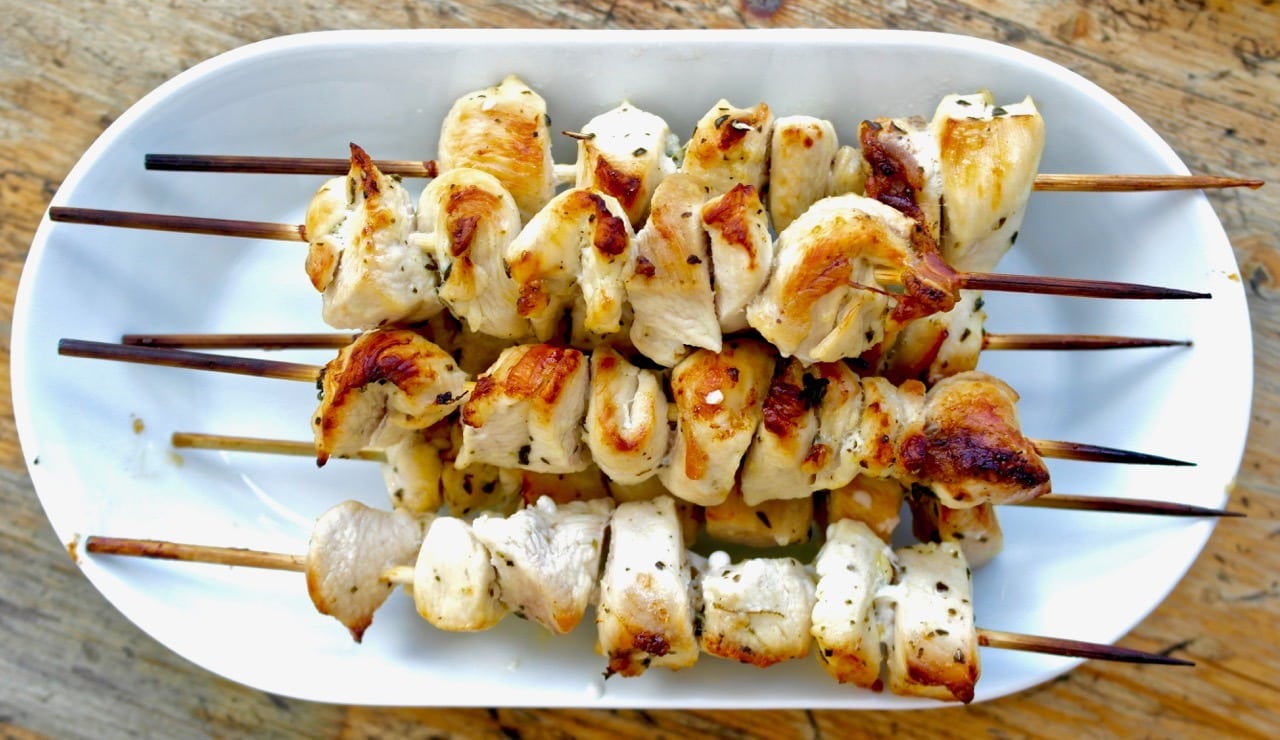 We've all been through those phases when we are looking for different ways to prepare chicken. Generally "Greek" style roasted chicken that is flavored with lemon, garlic and oregano and stewed chicken in tomato sauce are our favorites, but sometimes we want something different. And this recipe for authentic chicken souvlaki is it! The best part is that you can roast it in the oven! That was a game changer for me, since trying this roasting method, I've made it several times, and the kids love them!
Souvlaki terminology
The word "souvlaki" in Greece typically means just the meat on the skewer. The word souvla means skewer so that's where this comes from. Nowadays it is a term that means all kinds of souvlaki but when ordering, you still need to specify what exactly you want.
Souvlaki Kalamaki: Just meat on the skewer (not wrapped in pita)
Souvlaki Pita: meat is removed from the skewer and served in a pita along with tzatziki, tomato and onion.
Pita me Gyro: This is similar to the gyro you see in the U.S. but smaller.
*And then you also have to specify if you want chicken or pork. Typically pork is the original souvlaki, chicken kind of appeared later.
How do you serve a chicken souvlaki
Contrary to what you may have read, the classic Greek souvlaki on the wooden skewer is served on it's own, with a slice of bread and plenty of lemon squeezed over it. I still remember getting these souvlakia when we went on road trips in Greece: they would give you the souvlaki to hold, and put a slice of bread on the tip of the skewer. A good souvlaki kalamaki is enjoyed on its own (not in a pita or with tzatziki) because if the meat is good you don't want to cover its flavor with sauces and pita –kind of like taking a good steak and cutting it up and putting it in a sandwich. Having said that, chicken is less flavorful than pork, so you could serve it with tzatziki or tirokafteri (spicy feta dip) or even plain Greek yogurt, but I avoid pita as I feel it is too bulky and does not allow me to enjoy the meat. So my suggestion is this: serve with some bread and a salad on the side.
Secrets of a good souvlaki
Marinade:
An important part of making a good chicken souvlaki is the marinade, so don't skip that step because it imparts flavor (which is necessary for chicken) and makes the meat more tender.
Size of the souvlaki pieces:
Don't use big chunky pieces, they are difficult to swallow and not as tasty. In Greece souvlaki made with small pieces is prized over big bulky ones. I just want to add one more point here: if you have young children- I would pull apart each piece into smaller pieces to avoid any choking risk.
Roasting:
You want to make sure not to over roast the meat, otherwise the result will be dry and boring. Since the pieces are small they will roast quicker. Use a meat thermometer early on to not over roast. And since we are roasting these in the oven and want to get the grilled effect, put the souvlaki under the broiler for one or two minutes.
Making Souvlaki in the oven
To roast the souvlaki, you will need a pan or casserole dish like the one below that is wide enough to match the length of the skewers-like the photo below- and place them one next to other and put in the oven.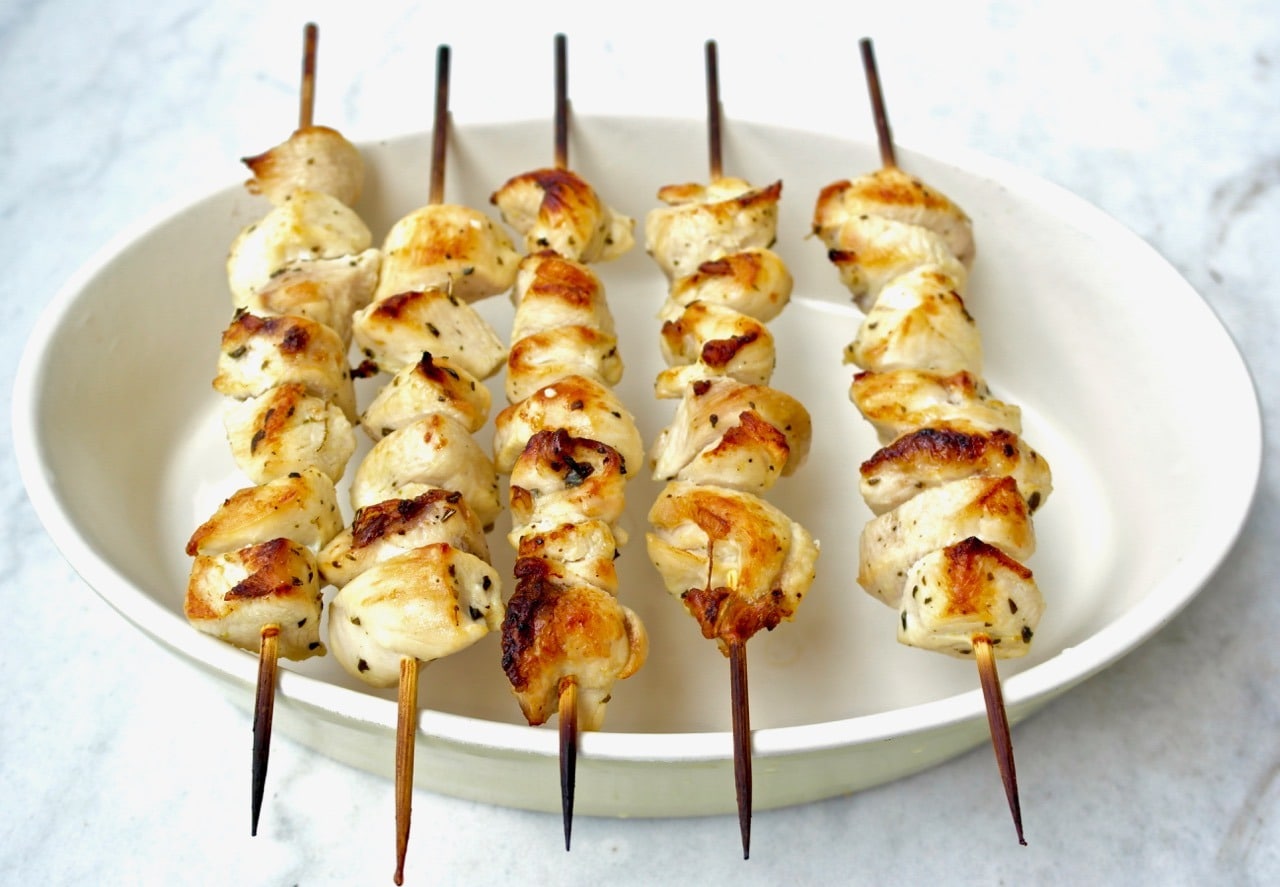 Quick and Easy Authentic Chicken Souvlaki in the Oven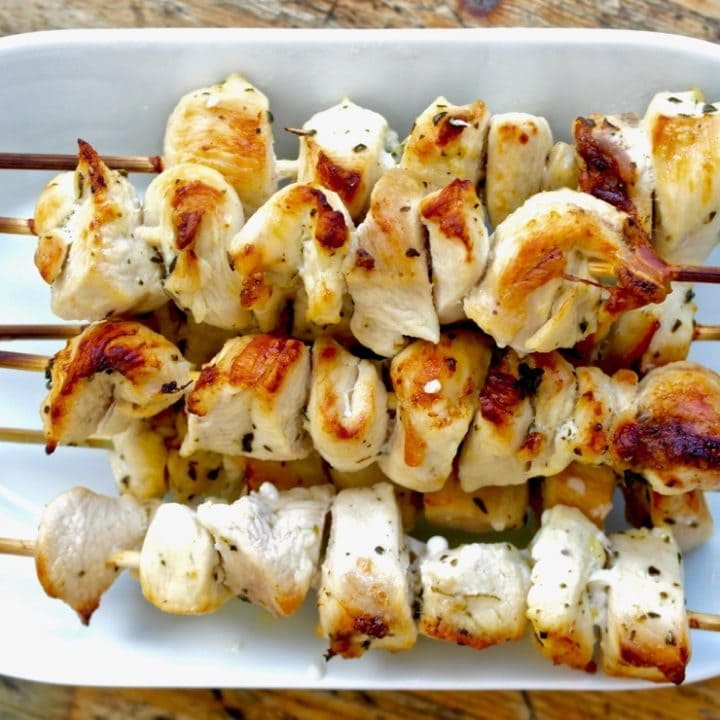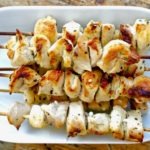 Authentic, delicious Greek chicken souvlaki at home with this easy recipe plus all the secrets for making the best souvlaki.
Print Recipe
Pin Recipe
Ingredients
1

pound

chicken breasts

Wooden skewers

¼

cup

olive oil

Juice from 1 lemon plus more for serving

1

tablespoons

dry oregano

Salt/Pepper
Instructions
Cut the souvlaki in bite size pieces (not larger than an inch)

In a plastic bag or a shallow baking dish add and mix all the other ingredients, add the chicken and mix well so that all the chicken is coated in the marinade. Cover and let it sit in the refrigerator for 2-3 hours. You can also soak the wooden skewers in water to avoid burning them (I forgot to this time).

Preheat the oven at 350 F (180 C)

Skewer the chicken on the skewers (I put about 6-7 pieces on each)

Heat a grill pan or frying pan over medium to high heat and add ½ teaspoon olive oil to the pan. Grill for about 1 minute on each side. Remove from grill pan and place in the preheated oven for 10-12 minutes. Grill the next batch and repeat. Chicken is ready when it has reached an inner temperature of 165o F.

Serve hot with plenty of lemon.
Nutrition Facts
Quick and Easy Authentic Chicken Souvlaki in the Oven
Amount per Serving
% Daily Value*
* Percent Daily Values are based on a 2000 calorie diet.
DID YOU MAKE THIS RECIPE?
Leave a comment or share on instagram and mention @greekdiet
Photos by Elena Paravantes © All Rights Reserved