When you look at this photo which is from the U.S. Department of Agriculture, it makes you feel good. Truthfully, it looks healthy, fresh, good for you. It is titled: Fresh vegetable cups prepared for the National School Lunch Program at Washington-Lee High School in Arlington, Virginia.
There is only one problem.
Does this taste good? I mean really good. Are kids looking forward to eating raw carrots, broccoli and radishes? And let's be honest here: do you as an adult, look forward to eating raw vegetables in this manner? I think not. There are only so many raw broccoli florets or carrot sticks one can eat–even with a dip. But yet time and time again in the U.S., attempts are made to fulfill vegetable requirements by offering raw or plainly cooked vegetables. It- does- not- work.
With this vegetable cup from the National School Lunch Program, kids are getting 1-2 servings of vegetables. That is if they actually eat them. Do they?
Here in Greece we eat vegetables as a main course, we cook all sorts of vegetables in olive oil and tomato. And then we eat this with bread and cheese, and it's delicious. The Spanish do this and so do the Italians.
One average serving for a child, will provide between 3-4 servings of vegetables. So kids actually do not need to worry about getting more vegetables the rest of the day. And it's actually supposed be consumed at room temperature plus it lasts 3 days, so financially it is a good idea for schools.
Maybe the folks who come up with these lunches need to rethink the meals. How about cooked vegetables? Mediterranean style?
Looking at American lunches served in the schools, what I see for the most part are chicken nuggets, pizza, mac & cheese, and yes those raw vegetables accompanied with dips or melted cheese.
Now here in Greece, while I've talked about our health issues and weight situation several times, for the most part we still do our lunches pretty well (for kids that is).
I recently started doing some consulting work for an elementary school here in Athens, Greece and along with preparing my own children's school lunches I have been thinking a bit more about this whole school lunch issue in the US.
While most kids still eat at home as lunch is the main meal of the day in Greece, and can be consumed anywhere between 1 and 4, schools that do serve lunch do it fairly well.
If you take a look at the school I work with (here is a menu, yes it's all Greek to you, but I'll do the translations). Children including pre-school and kindergarten have the following lunches throughout the week: Green Beans (Lathero) cooked with olive oil and tomato accompanied with feta cheese, Peas again cooked in olive oil along with feta, Lentils, Roasted Chicken with vegetables, Beef Patty with vegetables, Soup with beef and vegetables and Spinach pie and oh yes, they have pizza once every couple of months with just cheese and tomato.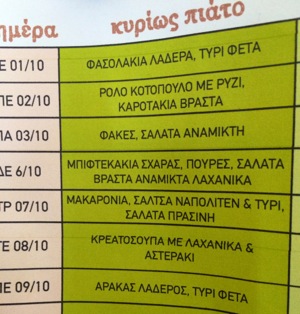 While it may have a bit more meat that I would have preferred, this is a pretty good menu. Who can beat vegetables as a main course? And one of the favorite meals of many Greek children is lentils, believe it or not.
By cooking vegetables with a healthy tomato sauce as a main course not only do you make vegetables tastier but also something children will actually look forward to eating, and in many cases they are healthier; the fat causes higher absorption of certain antioxidants and vitamins. But bottom line, they just taste better that way and you can eat more of them.
But even if you are looking for ideas to make for your child's lunch, Mediterranean inspired meals are one of the best ways to serve vegetables to your children. First try making these and tasting them at home to get familiarized with these dishes and then try them for their lunch at school.
A lunch for your child can be:
(click on the links for the recipe).
Photos by the US Department of Agriculture for flickr, Elena Paravantes