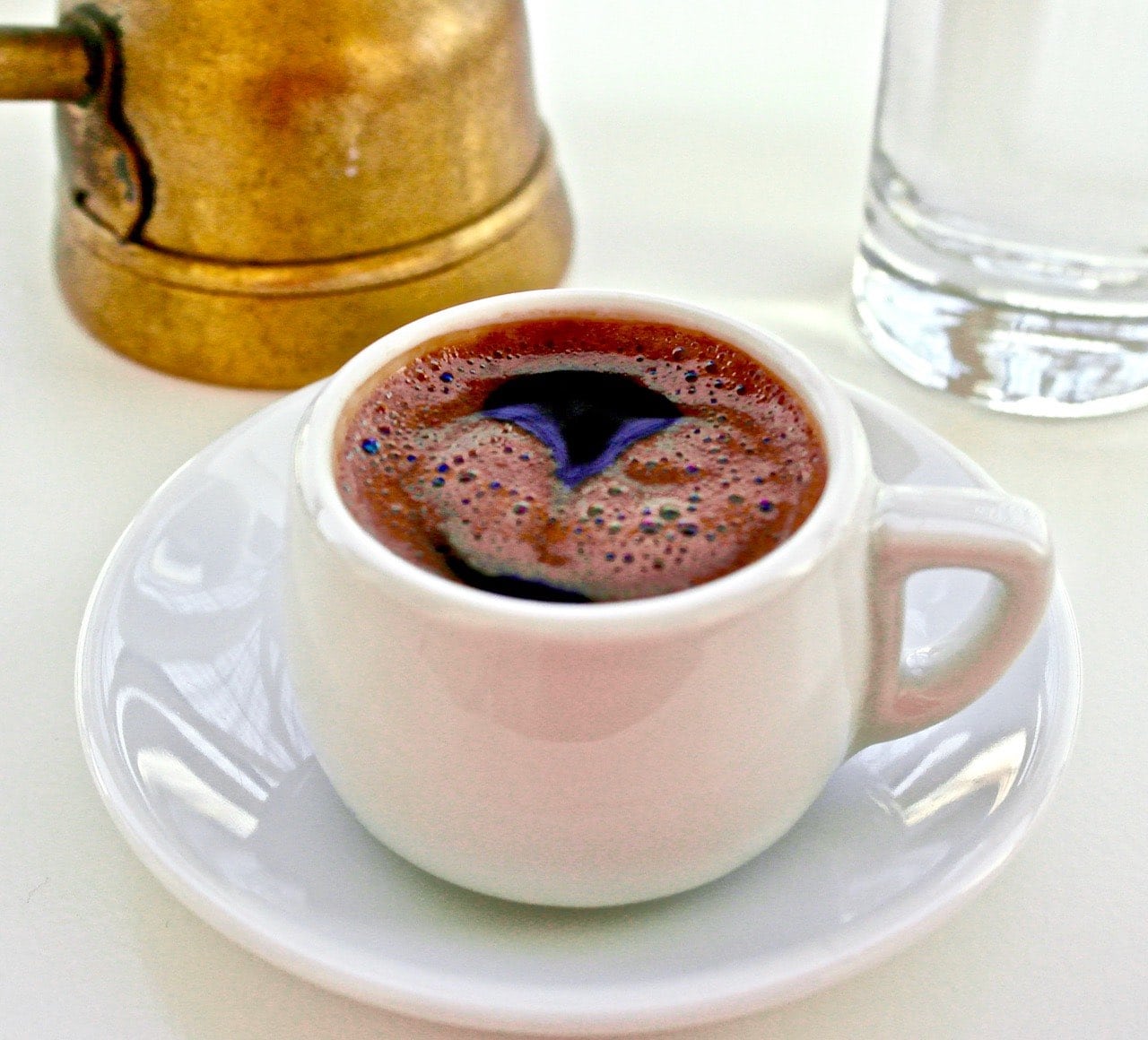 We have known for a while that coffee can be good for you and particularly Greek style coffee as that recent study on elderly Greeks showed us. So how do you make it?
Well, first of all taste is subjective and when it comes to coffee the variations are limitless. The same goes for Greek coffee, obviously you won't add milk or syrups to it, but the ratio of sugar to coffee, the amount of coffee, the length of time it is boiled, whether it has bubbles or not, all these are factors that can affect the taste and texture of the coffee. So in this post I will show you how I make the coffee and present the numerous other ways it can be prepared.
You will need
You will need some equipment to make a proper Greek coffee.
A gas source. In Greece most people used to have gas stove tops, nowadays these have been replaced with electric stove tops, which I am not very fond of, as I cannot see flame. Since most people no longer have gas stove tops, here they use what you call a gazaki, it is a single camping gas burner. Traditionally this type of coffee is made in what is called hovoli, which is basically heated sand.
Get a small coffee pot called a briki.
Espresso coffee cup or Greek coffee cup like the one in the photo
*Note Greek coffee does not have any spices added to it such as cardamom.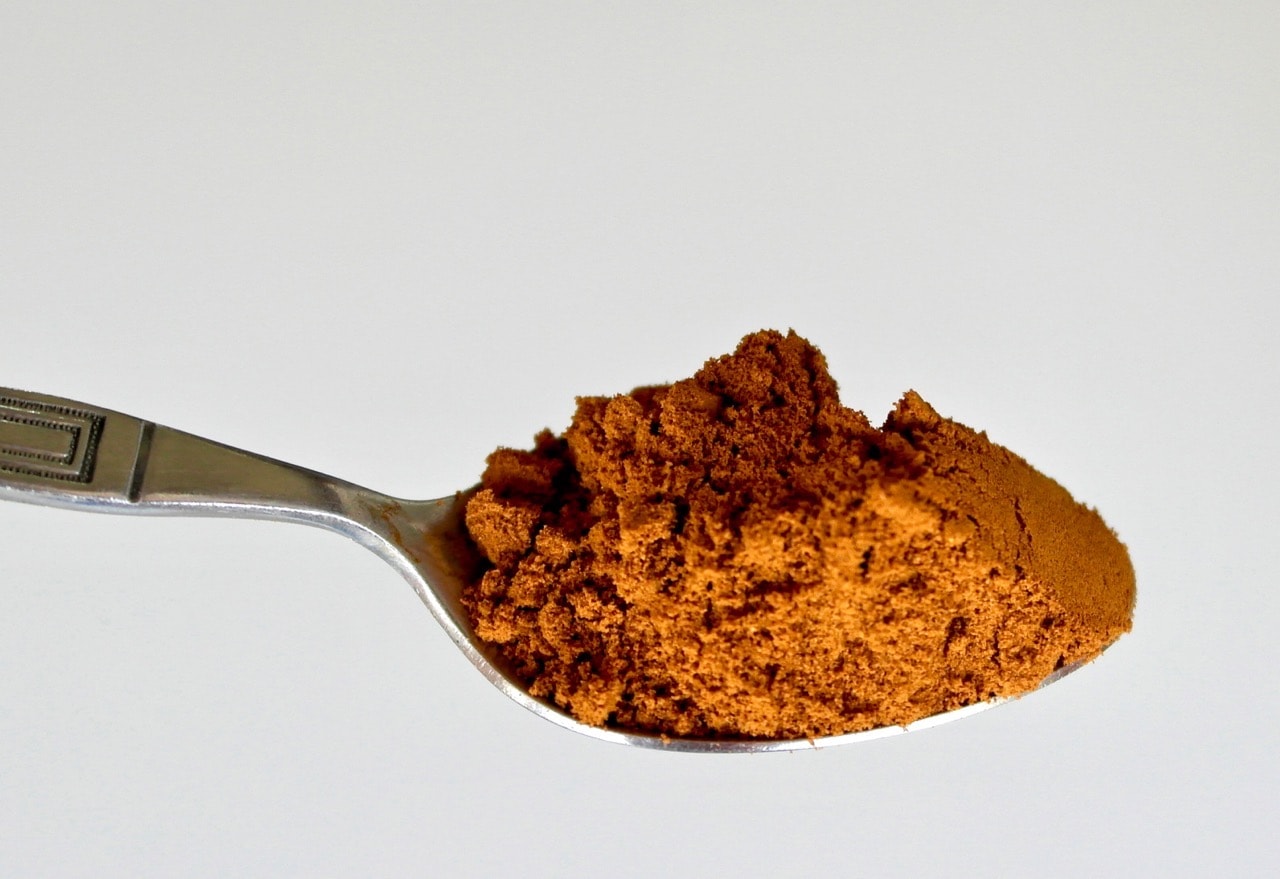 What Type of Coffee Should you Use?
Now many people think that if they grind their favorite coffee beans in a fine powder they will have Greek style coffee. This is not the case. I remember when I was the Food and Beverage Director for Starbucks in Greece and we were launching the first store in Greece back in 2002, we had to serve Greek coffee in the store. Apparently there is a law in Greece that requires all coffee shops to serve Greek coffee. However, Starbucks only serve their own coffee blends, so they ground their beans in a powder and made a "Greek" coffee. I can assure you that it looked like Greek coffee, but it did not taste like Greek coffee. Α specific combination of beans is used to make this Greek blend, with specific bean varieties, roasted at specific temperatures and used in specific ratios. If there is a place that grinds/roasts Greek/Turkish/Arab style coffee near you, then by all means get the coffee from there. If not, many ethnic super markets sell it and you can also order Greek coffee from Amazon, they carry the 2 popular Greek brands Loumidis and Bravo.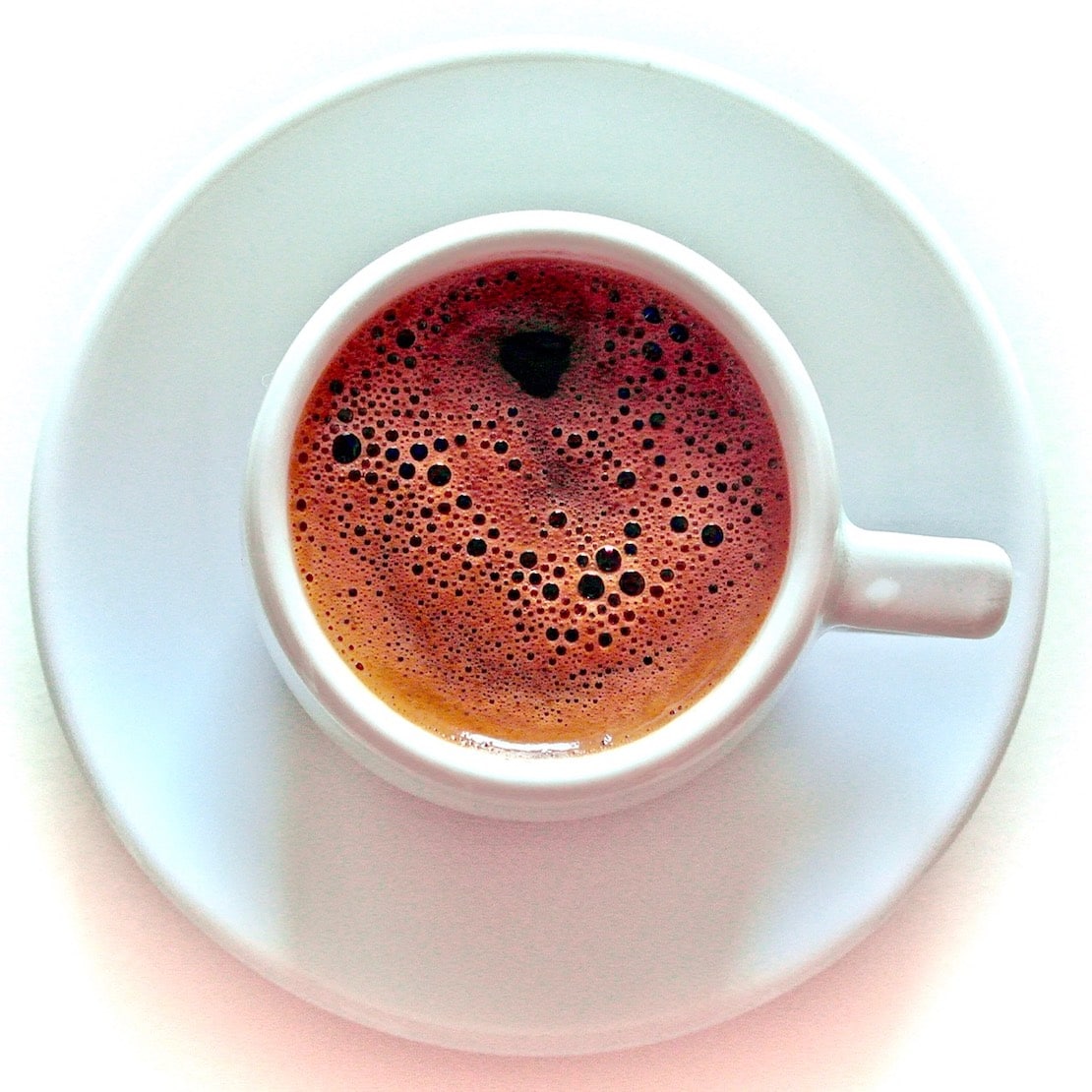 How to drink Greek coffee
While this is a small coffee, it is not to be confused with the espresso, which is basically consumed quickly standing up. This coffee is consumed sitting down slowly. To get the full flavor you should sip the coffee slowly. I remember the older generations taking loud sips of coffee; while this may be rude, I find that it increases the enjoyment of the coffee. Once you start tasting the first grounds you are done. Do not try and drink the coffee grounds at the bottom of the cup.
In Greece, traditionally coffee was consumed two times a day: In the morning and in the afternoon after their nap. Although the coffee seems thick and black it is not extremely high in caffeine, it is actually lower then regular filter coffee.
Different Preparations of Greek Coffee
As I mentioned earlier there are different ways to enjoy coffee (some say that there are 45 different ways to prepare Greek coffee), so you may always reduce the sugar or not add any at all. The way I make it is considered somewhat moderate to strong. Here are some of the ways it can be consumed:
Plain pronounced Sketos: Only coffee and no sugar
Strong pronounced Varis: 2-3 teaspoons of coffee with 1 teaspoon sugar
Light pronounced Elafris: ½-1 teaspoon of coffee + 1 teaspoon sugar
Sweet pronounced Glykos: 1 teaspoon coffee +2 teaspoons sugar
Strong-Sweet pronounced Variglykos: 3 teaspoons coffee +3 teaspoons sugar
Yes and No pronounced Ne ke Ohi: 1 teaspoon coffee + ½ teaspoon sugar
Greek Coffee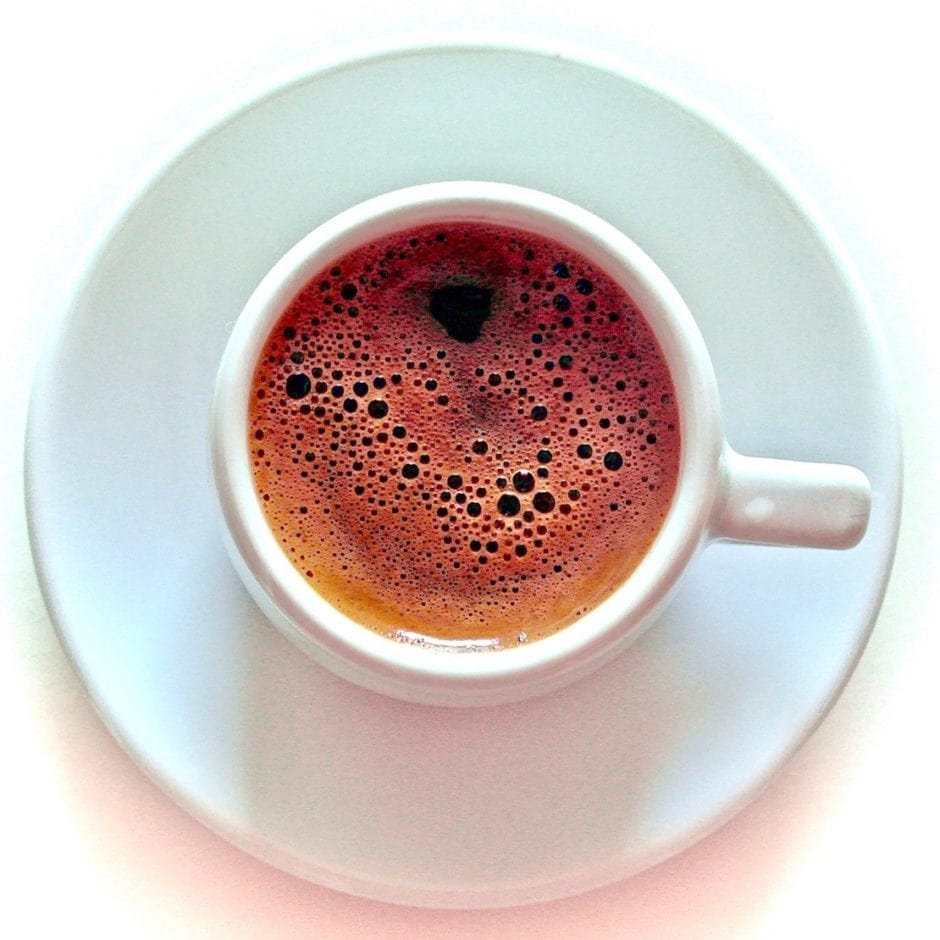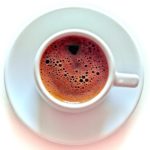 Making and drinking authentic Greek coffee in a few easy steps.
Print Recipe
Pin Recipe
Instructions
Measure out a full coffee cup of water (about 2 1/2 -3 ounces or 75-90 mls) and pour into the briki. If you are making more than one coffee make sure your briki is big enough, you will need space to let the coffee bubble and foam.

Add 2 teaspoons of coffee and 2 teaspoons of sugar for every 1 coffee cup and stir. This ratio is considered a somewhat strong coffee.

Place the briki on the gas and turn on so that it is on low heat.

Very slowly let the coffee heat up, (keep the flame very-very low). Do not leave the coffee unattended.

You will slowly see the surface start to tremble (I describe it like a volcano waiting to explode). Once it starts foaming, lift it slightly from the heat until the foam/bubbles settle and then put it on the fire again and let it start foaming and puffing up. Then remove. This step is important to get a good coffee. You don't want to let it over-boil otherwise it will not have that creamy/foam on top, but you don't want it under-boiled because then you may taste the grounds in the coffee.

Serve in the coffee cup. If you are making more then one, separate the foam in each coffee cup.

Serve the cup on a small saucer with a glass of cold water.
DID YOU MAKE THIS RECIPE?
Leave a comment or share on instagram and mention @greekdiet
Photos by OliveTomato