Athens is an excellent city to explore Greek food. While there are hundreds of restaurants offering all sorts of cuisines from around the world, I will focus on Greek food. When I travel to another country, I am interested in experiencing local foods and eating habits, so I'm not going to recommend where you can get the best burger, sushi, cheesecake or brunch. We're talking strictly Greek. Welcome to my city, let me show you around!
So here I will provide a guide on how to explore some eating spots that are representative of Greek food in Athens. Most of the places I recommend are located in central Athens, as this is where most visitors stay, although I must add that there are wonderful restaurants across all of Athens (check here for the updated list of the highest rated restaurants in Athens and the rest of Greece). They are places I have visited and have first hand experience with them. I have included several tips and articles at the end of the post to get the most out of your visit in Athens when it comes to food and experiencing the real Greek diet.
Breakfast
As I've mentioned before, the Greek breakfast was never a big affair. However, there are several ways to experience a Greek breakfast. If you are at a hotel that offers breakfast, look for good Greek honey, traditional preserves or traditional pitas (pies) such as spinach pie or cheese pie. If your hotel only offers the typical continental breakfast, than you can check out a few places to get a "Greek breakfast" experience. You can head over to the Acropolis museum where they serve a Greek breakfast every day until noon.
Or you can head to a few bakeries and grab a pita (pie). Some of my favorites are Ariston, Voulis 10 near Syntagma square or the bakery Lykavitttos, Deinokratous 59, located in a residential area of Kolonaki. And if you are looking for the famous Greek yogurt with honey and walnuts than you need to head over to Stani, near Omonia square. Finally, if you don't want to spend too much time on breakfast, grab a koulouri from street vendors located around Syntagma square and Panepistimiou street. The foods I mention here are also considered Greek street food (koulouri, pies), they can basically be consumed anytime of the day.
Lunch and Dinner
Lunch is usually the largest meal of the day here in Greece. We eat around 1:30-3:30 and dinner is a later affair usually after 9 pm. You have several choices, and there are several foods you should try when you are in Greece. One of the most characteristic type of dish in Greece are the lathera and mageirefta, these are traditionally consumed for lunch. They are basically meals that are cooked slowly on the stove top, consisting mostly of vegetables cooked in olive oil, along with tomato and herbs. They are delicious especially when coupled with feta and good bread. Dishes you should try include fasolakia lathera (green beans cooked in olive oil), bamies latheres (okra in olive oil, tomato and herbs), gemista (tomatoes and peppers stuffed with rice), Melitzanes latheres or imam (eggplant cooked in olive oil stuffed with onions and tomatoes), kotopoulo or mosxari kokkinisto (chicken or veal cooked in tomato sauce), mosxari or arni lemonato (veal or lamb cooked with olive oil and lemon), gigantes beans (roasted giant broad beans). Great lunch places for these type of meals is the historical, old school Fillipou in the Kolonaki area, Vlassis also a classic near the Hilton hotel and in a more trendy neighborhood you can also try Manas Kouzina Kouzina.
If you are in Athens you must also spend one afternoon eating in front of the sea, so head over to the Athenian Riviera and try some small fish (sardines and anchovies) and tasty dips. I recommend Sardelaki me Thea in Vouliagmeni, however be aware they do not take reservations. You can also try the Garbi Tavern in Kavouri next to the Divani hotel. If you get there early enough, you can enjoy the sunset sitting right next to the sea while drinking your ouzo.
In the evening I prefer to either go for an ouzaki or wine and meze, where you basically combine drinking with small bites and people watching or I save the evenings for the fancy meal. For wine bars, head over to an area where most of these bars are located south of Syntagma square, ones to try is Kiki de Grece, and Oinoscent. This area is lively with tables out on the sidewalks, where you can enjoy some beautiful Greek wines along with Greek inspired finger food.
An ouzaki consists of ordering ouzo or tsipouro or wine along with meze. Small plates of appetizers such as marinated fish, sausage, gigantes beans, dips, cheese, olives and bread. You can pretty much go to any tavern and some kafeneia (coffee shop) and order a small selection of these dishes along with a small bottle of ouzo (karafaki). One of the places I always go back to for meze is Cafe Avissinia which also has live music on the weekends and a terrace with a view of the Acropolis.
For a fancy meal there are numerous restaurants that offer a fine dining experience. There are currently 5 restaurants in Athens with Michelin stars, and many more that offer good traditional or modern Greek cuisine. Two that I recommend is CTC and 2Mazi. CTC is fairly close to the center of Athens in the Kesariani area, it will provide a unique experience using Greek ingredients. Try one of the tasting menus. 2Mazi is another restaurant, that is right in the middle of Athens in the Plaka area, but is not touristy. 2 Mazi is not as avant-garde as CTC, but definitely serves Greek cuisine with a modern twist. Both offer professional and friendly service.
Coffee
You must have a Greek coffee experience when you are in Athens. Drinking coffee is not a stand up affair. A coffee date can last a few hours. In my opinion one of best places to have a coffee and do some people watching is Kolonaki. Head over to any café around the Kolonaki square or on streets leading to the square such as Milioni street and grab a table.
Sweets
If you are looking for some traditional Greek desserts, you don't have to look far. There are several places that can satisfy your sweet tooth the Greek way. First you must try loukoumathes, Greek donuts drizzled with honey. Head over to Aigaion or Krinos both in the center of Athens or to the more hip place Lukumades and order the classic version. For syrupy sweets I absolutely love Karavan, although it is a chain they have the best bite size syrupy, baklava style sweets, visit their Kolonaki (11 Voukourestiou street) store. For Galaktobouriko which is a sweet made with phyllo with a custard filling, you must take short train ride to Agios Elefterios and go to Kosmikon. And for the famous sheep's milk Greek yogurt head to Stani (mentioned above) they also have great rice pudding.
Shopping
There are several great delis to get Greek goodies, but if you are like me I also like to go to a typical large super market and see what is on offer . A Greek owned super market chain in Greece that I suggest to see is Sklavenitis. In the center of Athens you can visit one in Pagrati right behind the Kalimarmaro stadium at the Nikolaou Plastira square.
You also must visit a Greek farmers market. Farmers markets exist everywhere in Greece. Each suburb have at least 1 or 2 a week, and there are several in the center of Athens. The Central Market of Athens , known as the Varvakeios market is open everyday (Monday thru Saturday) and is located on Athinas Street 42. You can also visit local farmers markets, centrally there is the Kolonaki market on Xenokratous street on Fridays, or on Tuesdays in Pagrati on Laertou street, or Wednesdays in Kato Petralona on Pandorou street.
Of course, if you are running short on time you can grab a few products at the airport before you go. They have a large selection of various Greek products and a good selection of olive oils. Read here for more airport food selections.
---
FAQ
---
What if I am vegetarian?
I've read several articles recommending special vegetarian restaurants, but really there is no need to do that. Greek cuisine is historically for the most part vegetarian (and vegan): the Greek salad, the lathera casserole dishes, the dips- all of these are vegetarian.
Every country has it own rules and considerations when it comes to food and Greece is no exception. You can eat like the locals and by knowing what to expect, you will experience an authentic Greek eating experience. Read more
There are some secrets and insider tips on how to order, what to choose and where to go to get the best food when you are visiting Greece, get them by clicking here.
Greeks typically have 3 meals a day. Traditionally the largest meal of the day was lunch, but many habits have changed due to Greeks adapting a westernized way of living. Read more for details
The mezes is such an important part of the Greek culture. It's all about taking your time and sitting at a table for hours just snacking on little tasty things, talking and drinking. Even today with the fast and busy way of life, Greeks still spend plenty of time at the table and going out for an "ouzaki" is a common form of entertainment. Read more here
While the Greek breakfast was never a huge meal, except perhaps for farmers, there is a large variety of traditional Greek breakfast foods and recipes from different parts of Greece, which would be a great addition to any hotel breakfast buffet. Read more
Although most menus in Greek restaurants are also in English, it is good to be familiar with Greek food terms, especially when you are shopping. Click here for the Greek food dictionary with a list of common Greek foods, what they are and what they are called in Greek
Get the list here.
---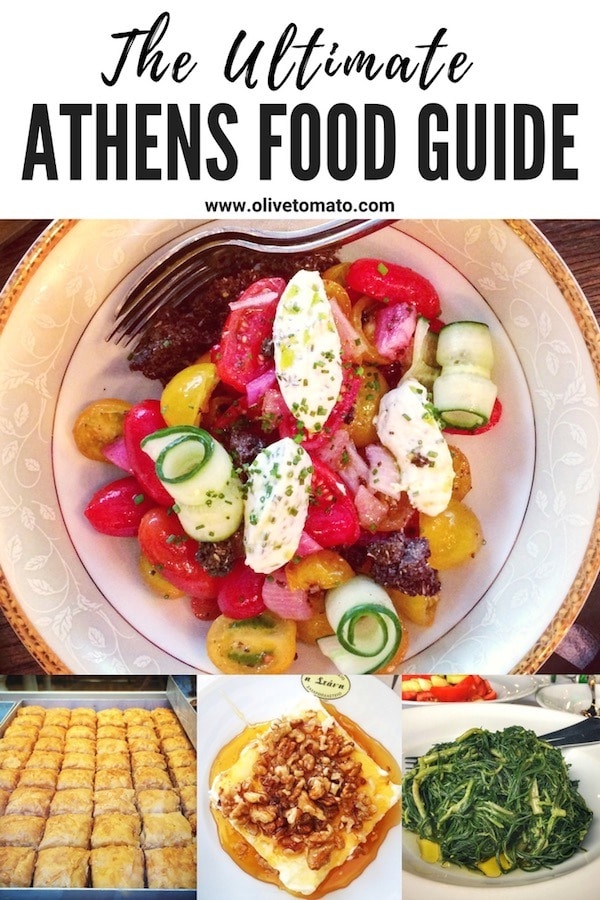 Disclaimer: I do not have any collaboration with any of the restaurants, shops, or companies mentioned in this article.
All photos except where noted are by Elena Paravantes© All Rights Reserved