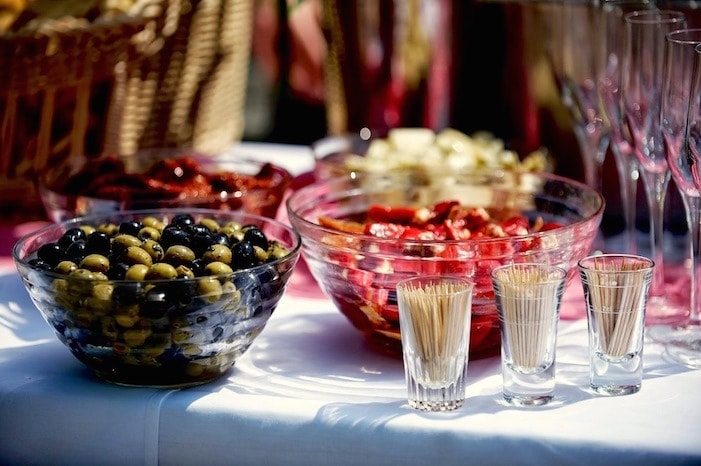 Almost everyone is worried about holiday weight gain. We're out of our normal routine, surrounded by a lot of food and a lot of sweets and desserts. Even our presents are about food; who can resist a pretty box full of homemade cookies?
The reality is that we do not gain that much weight during the holidays. Studies have shown varied results, it looks like it's about 1-2 pounds over the holiday period. But it may be a bit more for those who have been trying to lose weight (on a diet ) and those who are overweight. Ok, so nobody wants to start the new year with a few extra pounds nor do we want to be feeling bloated, with no energy and generally lethargic, plus according to a new study it takes about 4-5 months to lose that holiday weight. But there is a Greek diet strategy that keeps everything in check.
A Healthy Tradition
Obviously there are a lot of things one can do to avoid this, but I'm not going to tell you to not eat too much on Christmas-you should enjoy it! But I do find one Greek diet tradition particularly helpful. And that is going on a semi-vegetarian fast before the holidays, which is known as nisteia. No it is not a fast, as you know it, you actually eat a lot of things (see below). It has a religious basis, but for our purposes we will focus on the food part. Basically before certain holidays (around 40 days) Greeks would go on these fasts which basically did not allow any animal products with the exception of some seafood and sometimes fish. When you added up all those days, they came up to about 200 days a year. That meant that traditionally Greeks were vegetarians (and vegans sometimes) for most of the year. This type of eating includes plenty of vegetables dishes, nuts, beans, olive oil (most days) and it was delicious.
Counting Down to The Special Day
The concept of eating a plant based diet with little processed foods right up to the holidays, nutritionally it is great,  you give your body a break from meat and high fat foods and provides an extra dose of all those antioxidants and fiber from the vegetables, but also psychologically you are counting down to the big, special day (not days). What we need to remember is that Christmas is 1 (or 2 days- if you count Christmas eve) plus 2 more days for New Years and New Years Eve. So if you are eating a nice healthy (and delicious might I add)  vegetable rich diet for most of the holiday season, not only will you feel better, once Christmas comes around, the dinners and desserts will be something special-not things you have been eating already and you also feel like you deserve it.
Apart from the fact that you will be eating healthier, research also shows that individuals who followed this fast have a lower intake of saturated fat, total fat and calories and a higher intake of fiber, a combination that protects from heart disease and cancer. In addition, studies have shown the non-animal protein sources such as legumes and nuts are healthier than animal protein sources due to their fiber and antioxidant content, but also effective for weight loss due to their low fat content. So while this type of fast usually lasts for about 6 weeks, you can start today, it will do you a world of good. Let's get started:
The Rules
So here are the rules:
Allowed: beans, vegetables, bread, fruit, honey, nut butters, rice…pasta (no egg noodles), cereals, octopus, squid, olive oil, honey, and basically anything that does not contain animal products- sometimes fish (For this particular pre-Christmas fast fish is also allowed on most days)
Not Allowed: meat poultry, pork, game, dairy, eggs, butter
Check out this post for more on this fast and a sample plan. And in the meantime checkout some of my favorite recipes on this plan:
10 Dishes That Will Make You Feel Better and Lighter
1. Spinach and Rice- Spanakorizo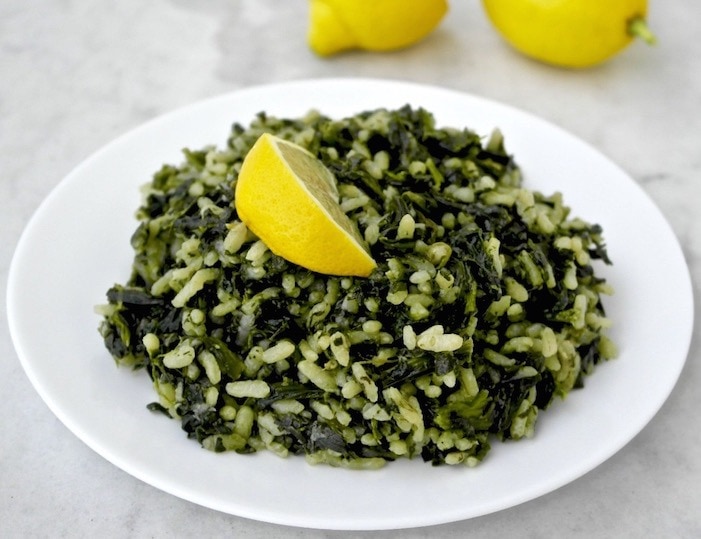 A traditional Greek rice and spinach dish that will become a winter staple, thanks to its flavor.
GET THE RECIPE HERE
---
2. Lentil Soup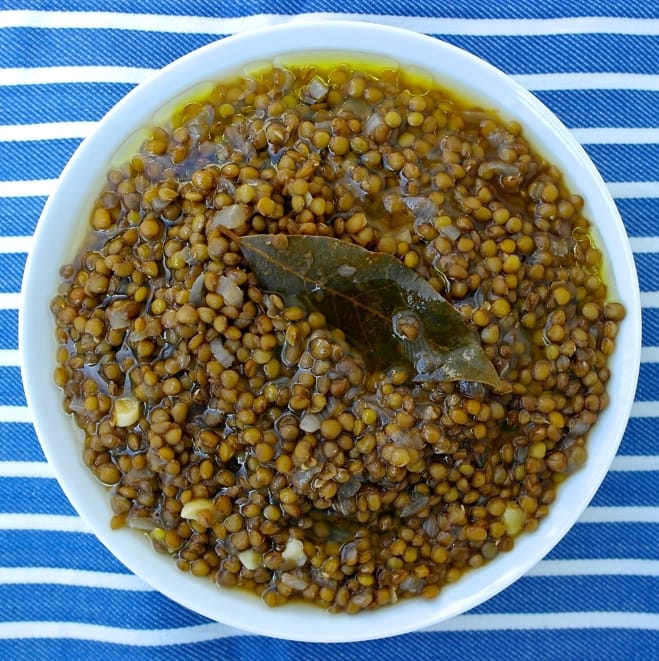 This delicious yet simple lentil dish is a Greek classic all year round, a kids favorite!
GET THE RECIPE HERE
---
3. Chickpea Patties with Thick Tomato Sauce – Revithosoutzoukakia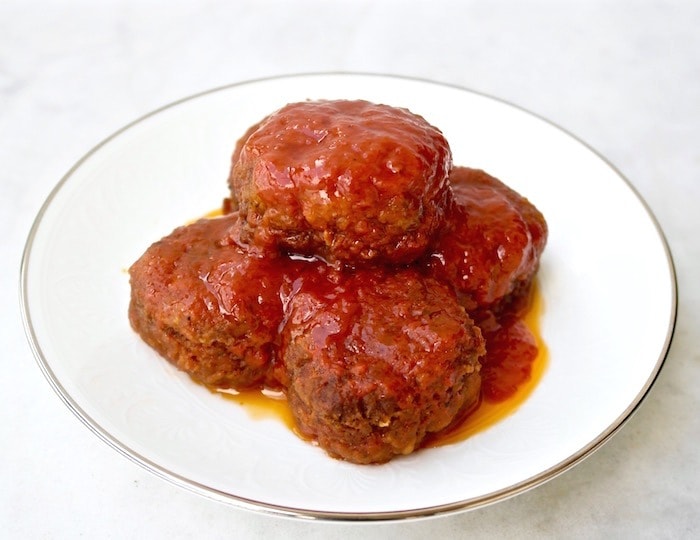 These chickpeas could be considered falafel's seductive cousin. Flavorful chickpea-tomato patties drenched in intense tomato sauce. And did I mention they are vegan?
GET THE RECIPE
---
4. Greek Potato Salad-The Ultimate Potato Salad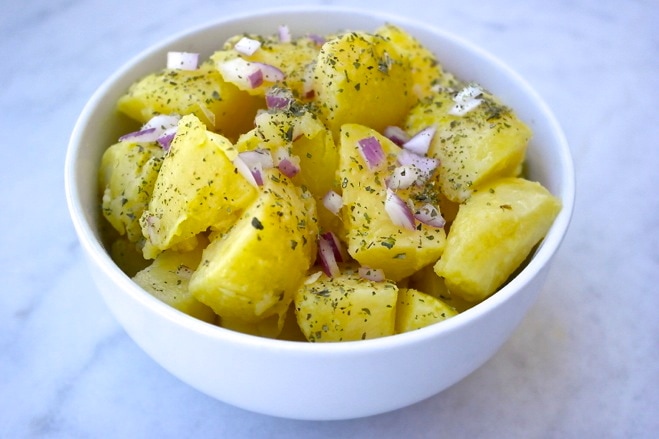 Greek Potato Salad: Yummy, Simple and Healthy. Potatoes drenched in olive oil and lemon, sprinkled with oregano and red onion.
GET THE RECIPE
---
5. Cretan Roasted Zucchini with Garlic and Tomato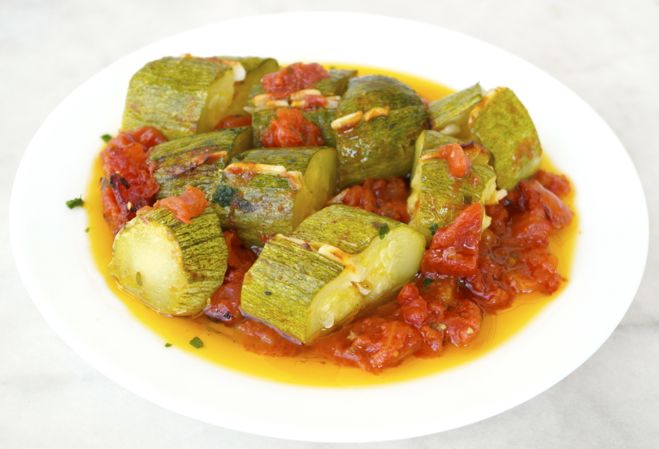 Think zucchini is boring? Think again. Try this Greek-Cretan recipe: zucchini roasted with tomato, garlic and olive oil and you'll change your mind.
GET THE RECIPE
---
6. Lentils and Rice-Fakorizo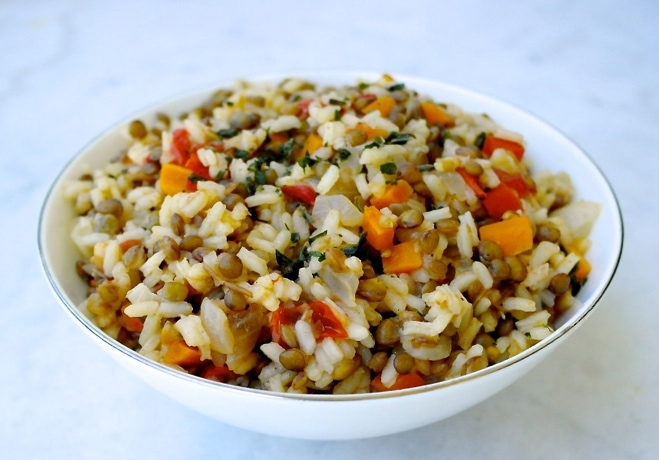 An easy, traditional Greek vegetarian recipe. Flavorful, filling and good for you.
GET THE RECIPE
---
7. Traditional Greek Braised Cauliflower Recipe

Soft, tender cauliflower stewed in olive oil and tomato sauce and flavored with spices.
GET THE RECIPE
---
8. Roasted Anchovies with tomato and Onion – Gavros sto Fourno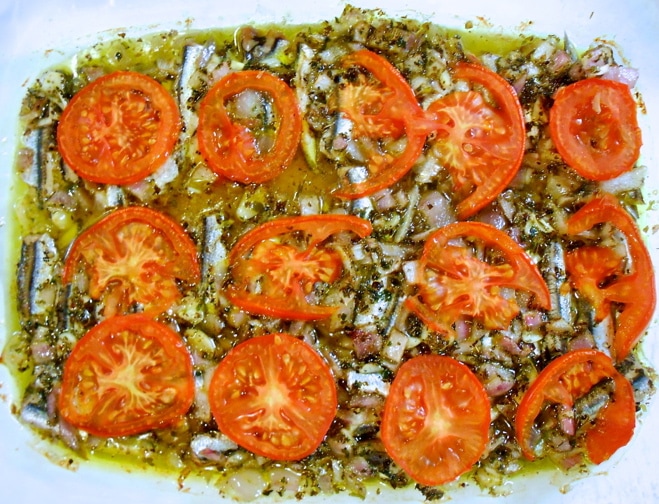 This may simply be one of the healthiest and tastiest meals you will ever eat. Rich anchovies roasted in olive oil with garlic, herbs and topped with tomato.
GET THE RECIPE
---
9. Pea Casserole-Arakas Latheros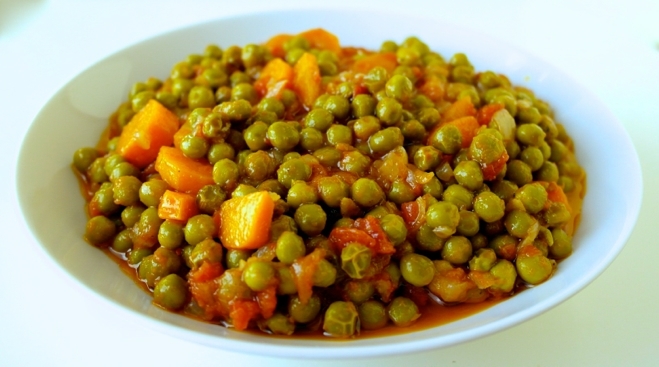 Cooked peas in a rich olive oil-tomato sauce, accompanied with good bread to dip in the yummy juices.
GET THE RECIPE
---
10. Greek Roasted Beans in Tomato Sauce –Gigantes Plaki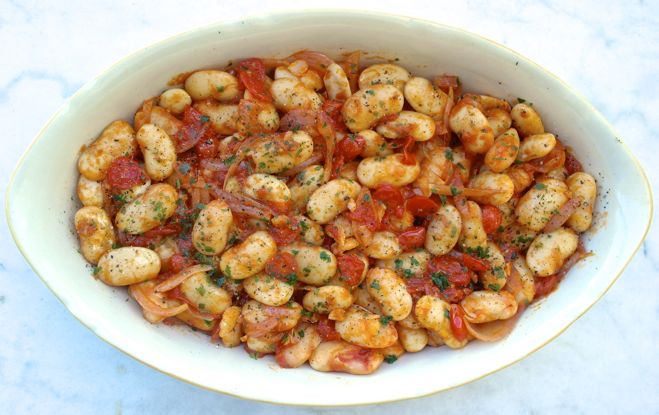 Luscious, tender baked beans in a tomato-herb sauce. A traditional Greek dish bursting with flavor and nutrients.
GET THE RECIPE
Images © 2016 Elena Paravantes. All Rights Reserved.